How to Make a Small Bathroom Look Bigger
- 20/06/2016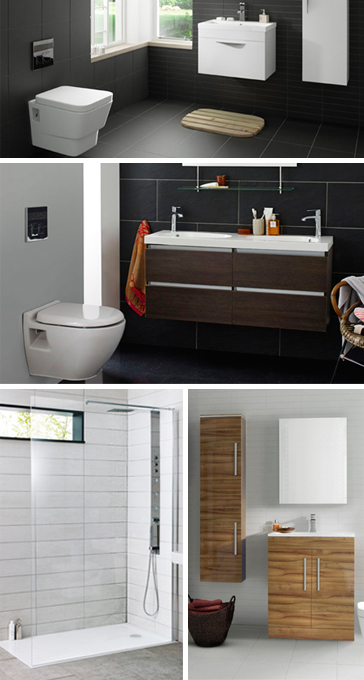 Wanting a 'bigger bathroom' or 'more space' is a common theme when planning a bathroom.  The best way to achieve is to maximise storage and utilise space efficiently.   
Research and planning are a necessity, and although it can be time consuming you can guarantee it will be beneficial.  Start by working around the features you already have that would be difficult to change, such as the walls and windows.  Small windows can be common in bathrooms, which limit the natural light from entering - even larger windows can obscure natural light due to a frosted or patterned surface. If you are struggling to gain natural light in your bathroom, consider additional lighting options - adding LED strip lighting will open up spaces once forgotten about, giving the illusion of a much bigger room.  With a sticky strip back it will stick to most surfaces and can be used on bath panels, units or cabinets.
Mirrors are an excellent way to create the illusion of more space.  Many people may opt against full length mirrors in a bathroom but choosing the right mirrors can be a great trick to give the illusion of more light and space.  It is important to think about what will be reflected, as the reflection of a window will increase the view of the outdoors, instead of just another wall.
Other elements of your bathroom can be utilised to reflect light, such as high gloss furniture surfaces.  The Hudson Reed Memoir in Gloss White is ideal for smaller bathrooms where you want to create space, the finish reflects light and creates a bright spacious environment. 
As well as colour, think about the style of units you are using and how well are they utilising the space.  Modular furniture is often wall hung, which maximises floor space.  As well as being space saving, modular units also have the added bonus of the being fitted at a height which is best suited for you.   If space is a real issue, the Memoir compact range is a great solution, with a slimmer depth it gives the style and functionality of the furniture you require but takes up much less room up than the standard units.
If you want more space when actually using your bathroom, rather than more floor or storage space then a wet room is a great idea.  Different to a shower cubicle, these are an open space and become part of the room rather than something separate which can break up the space and make it look overcrowded and small.
Categories